As a new patient in our office your first appointment will be approximately 90 minutes. This appointment is a record taking appointment that is necessary for us to get to know you, your oral health and to determine your health and treatment needs. More importantly, it will give you the opportunity to meet one of our Dentists: Dr. Michele Nielsen, Dr. Doug Nielsen, Dr. Bob Jamieson or Dr. Selena Chow as well as tour our office and meet our team.
Upon arrival to our office, you will be greeted by one of our friendly business assistants and asked to provide all insurance, family and health information. Then, one of our business assistants will review our office policies and make note of any health or dental concerns you may have. You will then be escorted to one of our Hygienists where your medical history will be reviewed and a soft tissue and head and neck oral cancer examination will be completed. At this time all necessary X-rays and a periodontal (gum & bone) diagnosis will be completed. One of our Dentists will then do a complete examination of your mouth, review your x-rays as well as a basic review of your concerns and goals for your dental needs. Based on your examination and treatment needs the length of your second cleaning appointment can be determined and booked.
At your cleaning appointment, our dental hygienists use state-of-the-art ultrasonics that will make your cleaning appointment not only more comfortable, but also more effective. Care will be taken to ensure appropriate desensitizers are used to protect any sensitive root areas. The hygiene team will also ensure you get appropriate instruction in home care so that every dental hygiene visit will get a little easier. The "recall" cycle for your preventive care visits will be customized to your needs and your self-care abilities. It is at this second appointment that one of our dentist will do a complete review of any concerns and treatment required.
We will then prepare a written estimate or pre-authorization with your insurance company for any necessary treatment.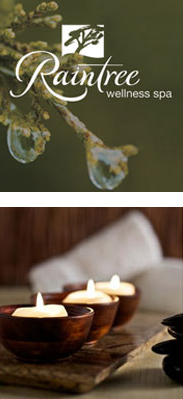 We are always accepting new patients. We pride ourselves on the high quality of service and care we provide. There's no better sign that we are serving you well than the number of new patients who walk through the door. Referrals and word of mouth are our number-one source of new patients. When you refer a friend or family member we won't let you down! A vibrant patient base helps our practice grow and expand so that we can continue to offer the very best in dental treatment.
For each new client you refer to our office, your name will be entered into the monthly spa draw and you and the person referred will receive a thank-you gift certificate  If you refer 2 or more new clients, your name will be entered for a draw to win a $100 gift certificate.
As a valued dental patient of Steveston Smiles you could win a relaxation retreat at Raintree Day Spa. There are three ways you can enter the draw:
1. Any patient coming into the office during the month may enter their name at the reception desk for the month-end draw
2. Any patient sending us their e-mail address from our website will automatically be entered. To enter online, click here
3. Your name will be entered into the draw by referring a new client to our office.